We're sure you've been hard at work on your New Years' Resolutions for the past month – so have we!  2014 was a really exciting time for us, which we thank you for making possible.  Now we are focusing on making 2015 an even better year for us, and more importantly YOU! We've listened to all your great feedback about the things that would make Procorem work for you and your team better.  Look for new and improved features over the next year, but in the meantime check out our latest update: Email Digests!
Some of you have mentioned that the influx of emails from every action on Procorem may have caused you to miss some of the happenings within your WorkCenters, so we created the ability to adjust your preferences to receive a single email digest, sent to you either daily or weekly.  It's now up to you how you receive your email updates!
Oh, and for all you Account Admins out there, we've made it simple for you to subscribe to these daily or weekly digests even for the WorkCenters that you are not on. This way you are completely in the know.  Another way you will be more in the know is the fact that you are able to see the digest settings across all users, in one place.
Now, let's take a look at how these new additions to the Procorem software work:
First, log into Procorem and navigate to your profile page.
Next, click on the preferences tab to manage your daily digest subscription preferences.  Make sure to note the options between a daily digest (send once a day) as well as a weekly digest (sent once a week).  The next drop down allows you to select which account to set preferences.  Preferences can be controlled for each WorkCenter differently so you can receive immediate notifications for more active and high priority WorkCenters while still having the option to reduce the amount of notification emails from other WorkCenters.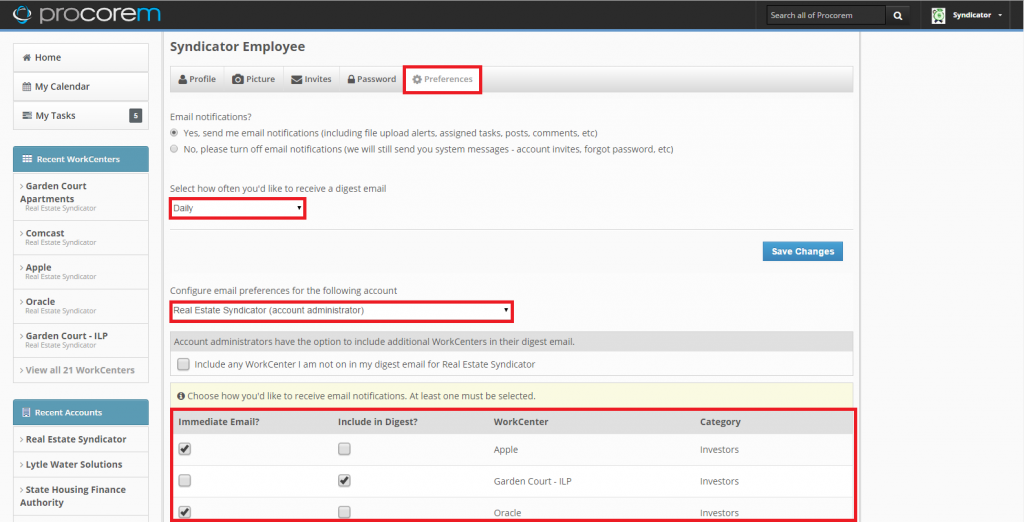 You can also adjust your preferences within each individual WorkCenter.  To do this, simply navigate to the collaborator panel on the right hand side, click the arrow to drop down and select your email preference.
The end result is a simple summary of all the activity around your WorkCenter in a daily or weekly digest depending on your preference.
How you view your Procorem WorkCenter updates is now in your hands so you can more effectively oversee your projects!
We are working on additional updates from your feedback now, but please comment below if there is an update or change to Procorem that would make the software better for you!  As we said, we are listening and would love to hear from you!
For more how-tos, check out our FAQ.